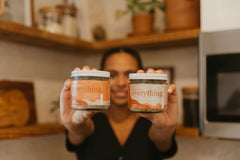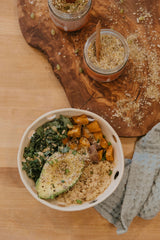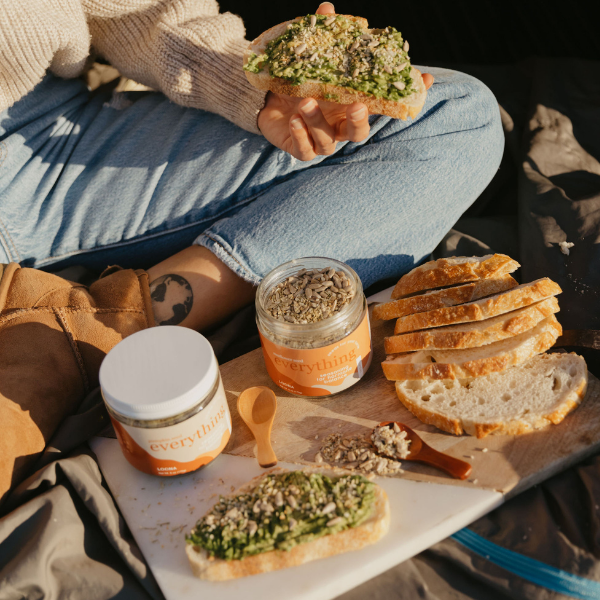 This is a lkdgj asoif asl;k fsdlkj oiwe ga;lkfj asdoi aopweig alg akldfjsdoi v clkjoweia gpioa gjl;adk fsdifo wepoig ajlkasd fasiop gw lakfoid ucoiuawe alkj oaidsfpoa iwegal kfjaosidf owe;if paif jasifj
** find a way to allow monthly memberships

Happy Hormones Kit
Out of stock
Description
Seed seasoning blends that support hormone health

This kit includes both our follicular and luteal blend designed to be used the first and second half of your cycle and supply the appropriate nutrients to help your body naturally modulate sex hormones like estrogen and progesterone.
**Included in your glass jar kit is a miniature, wooden spoon for easy scoopin'!
What's Inside?
Follicular blend - Phase 1: Day 1 of your period through day 14ish (ovulation)
~ Pumpkin seeds
~ Ground flax seeds
~ Dried garlic & onion
~ Dried nettle leaf
~ Sea kelp (kombu)
~ Sea salt
 This blend is packed with ingredients like nettle leaf and sea kelp that help your body replenish nutrients lost during your period. It also includes pumpkin seeds - heavy in magnesium and zinc along with freshly ground flax seeds that help facilitate the elimination of excess estrogen. We add in high quality dried garlic, onion and sea salt to make the blends DELICIOUS and an easy add to your day-to-day routine.
Luteal blend - Phase 2: Day 15ish (after ovulation) through to day 1
~ Sunflower seed
~ Ground sesame seed
~ Dried garlic & onion
~ Rosemary
~ Fennel seed (ground)
~ Fenugreek seed (ground)
~ Poppy seed
~ Caraway seed
This blend includes ingredients like fennel and fenugreek which aid digestion and keep things moving when we need it most during the second half of our cycle. Sunflower seeds supply vitamin E which helps us boost progesterone levels and support our liver. Sesame seeds have been shown to lower inflammation and are high in nutrients like magnesium, vitamin B1 and B6. We top it all off with detoxifying rosemary and yummy garlic,onion & sea salt. 

**All ingredients are organic, Non-GMO and sustainably sourced. We work with local farms whenever possible.


How do I use it?
Just sprinkle around a tablespoon on top of your meals for a super tasty and nutritional kick. Tastes great on eggs, avocado toast, rice bowls, soup salad etc. A serious upgrade to your daily seasoning.
Size
Each jar is about 6.5 ounces and contains about 13 tablespoons (that's nearly 3 times the size of a regular everything seasoning) Our refill packs contain 5 ounces of seeds and do not include the adorable wooden spoon. 
Follicular blend Ingredients:

+ Pumpkin seeds

+ Flax Seeds (ground)

+ Dried Garlic & Onion

+ Nettle Leaf

+ Sea Kelp

+ Vitex/Chasteberry

+ Sea Salt




Luteal Blend Ingredients:

+ Sunflower Seeds

+ Sesame Seeds (ground)

+ Dried garlic & Onion

+ Rosemary

+ Fenugreek seed

+ Fennel Seed

+ Vitex/Chasteberry

+ Sea Salt




LOONA SEEDS
Top anything savory! Great on toast, eggs, soup or salad. We use it in place of salt or everything seasoning.
1. Track
2. Shake
3. Sprinkle
4. Switch
You're trusting us so we take this stuff seriously! We work with the best partners we can find.
+ All organic or non-GMO ingredients
+ Sustainably sourced
+ Straight from the farm whenever possible
Our seeds are all organic, raw and we grind our small seeds (flax and sesame) so that you get all of the nutritional benefits possible. Our dried garlic & onion comes straight from the farm right here in California and we only source organic herbs from companies that we trust. The sea salt we use is so delicious you'd eat it alone. Everything down to our wooden spoons are chiseled by hand. We're want to do things the right way.
Follicular blend Ingredients:

+ Pumpkin seeds

+ Flax Seeds (ground)

+ Dried Garlic & Onion

+ Nettle Leaf

+ Sea Kelp

+ Vitex/Chasteberry

+ Sea Salt




Luteal Blend Ingredients:

+ Sunflower Seeds

+ Sesame Seeds (ground)

+ Dried garlic & Onion

+ Rosemary

+ Fenugreek seed

+ Fennel Seed

+ Vitex/Chasteberry

+ Sea Salt




LOONA SEEDS